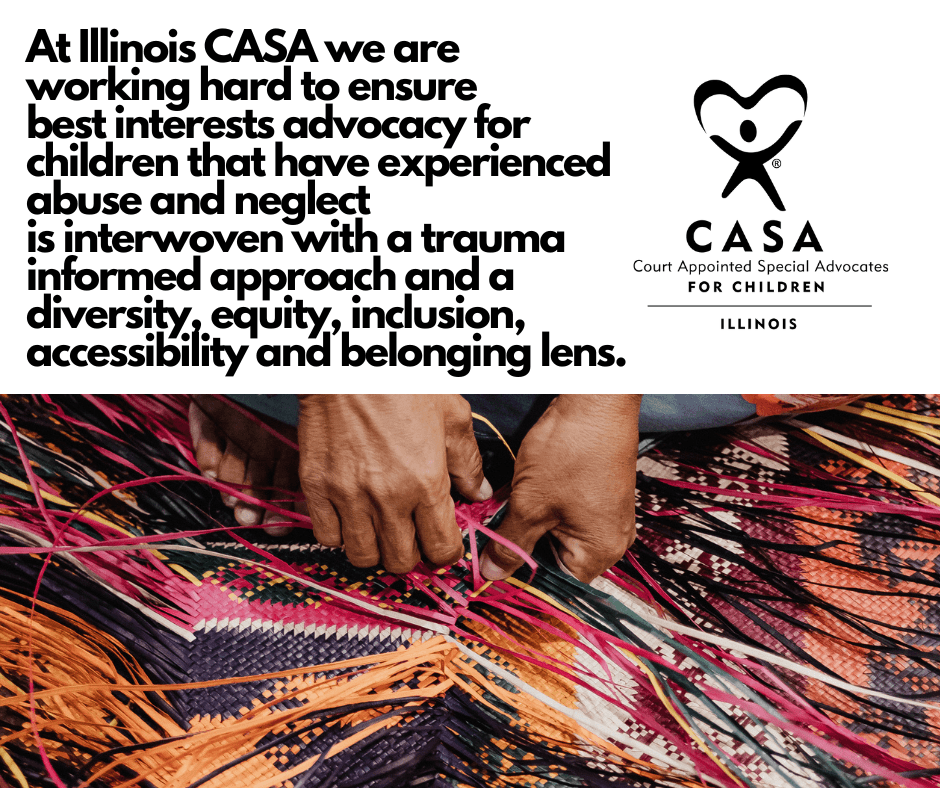 Diversity, Equity and Inclusion Mission Statement
As an organization, we believe that Diversity, Equity, and Inclusion (DEI) are central to our commitment to carrying out our mission of best interests advocacy for children in Illinois who have experienced abuse and/or neglect.  We commit to ensuring that our mission aligns with our core values, and that every aspect of our organization incorporates DEI principles. 
Specific areas of concentration:
1.      Purposefully strive to foster diverse Board of Directors and Staff that reflect the diverse population of children we serve throughout the state of Illinois.
2.     Intentionally build a systemic culture of inclusion and equity that is reflected in our language, actions, policies, and trainings.
3.     Empower the Illinois CASA network by providing resources that allow for implementation of DEI principles at the local program level. 
4.     Actively empower CASA volunteers to bring awareness to discrimination and implicit bias as it is encountered in our daily advocacy work with children.
By focusing on the above, we strive to ensure equity for all children who have experienced abuse and/or neglect in Illinois regardless of race, ethnicity, gender identity, sexual orientation, religion, disability or socio-economic status.